Relase Date: Early 2023
Label: Ede Records (Digital)
EDE: New Single 'Refugees' From Hamburg Based Experimental Kraut Pop Artist Now Streaming at PRETTYINNOISE; Debut Full-Length 'Mercy! Mercy!" Set For Release Early 2023. Listen To 'Refugees' RIGHT HERE.For Fans of CAN, Holger Czukay, Talking Heads,… When Trip Hop meets Captain Beefheart. New experimental Kraut Rock music from Hamburg/Berlin.
Comments EDE: "When I started to make music in the 80ies it was a bit embarrassing when someone said: Your song sounds like this or that band. Today it's a kind of positive quality and a skill if you sound like the old artists and styles, that's astonishing, isn´t it….?"
His sometimes more darkish songs are describing personal struggle (Mercy, Crazy, Sick), lost love (The Day, Always) and other disappointments as well as global crisis (Coconuts) and the need for a change (Look Around). Compassion and the individual pursuit of happiness (Sorry) are topics for a good live with social and key environmental demands. His lyrics are full of hope for a better world by POP! EDE is no new retro, EDE shows us some amazing crossovers in music.
EDE lived in Berlin already in the 80ies hanging out in Madonna Bar and in SO36 Kreuzberg. He was starting out as a drummer in the Kalle Winkler Band ("Made in DDR"). EDE was writing own songs on guitar with an early Fricke drum box. In the 90ies he experienced live gigs as a singer with some bands eg. Private Talk and Jealous Deer... and he had some studio productions going as well.
To get some more insights as a singer he attended a music school in Berlin Kreuzberg in the early 90ies. He and his Band Private Talk also won the Hard Rock Café band competition in 1992. So, many of his compositions and lyrics have been written in Berlin in the 80ies and 90ies.
In Hamburg EDE re-recorded the songs at home with new technology and fresh inspiration. And what are you supposed to do when you´re grounded under lockdown? What are you supposed to do when you are trapped in your personal misery and a pandemic comes along like never seen before? The last years EDE took up his voice and instruments and finalized the songs with passion. So EDE worked himself through the heap of unreleased songs creating a new kind of NEW EXPERIMENTAL KRAUT POP!

"He worked all songs over and over all the time like crazy! Even though those tracks have been really great since the early beginning. So now all the better that the album can be finally published." comments Daniel from CZ! Promotions.
Mercy Mercy! is EDE´s pretty late debut album. And it sounds like some music never heard before. Its indeeeeeeed a new experience, it is modern German Experimental Kraut Pop … Lets listen!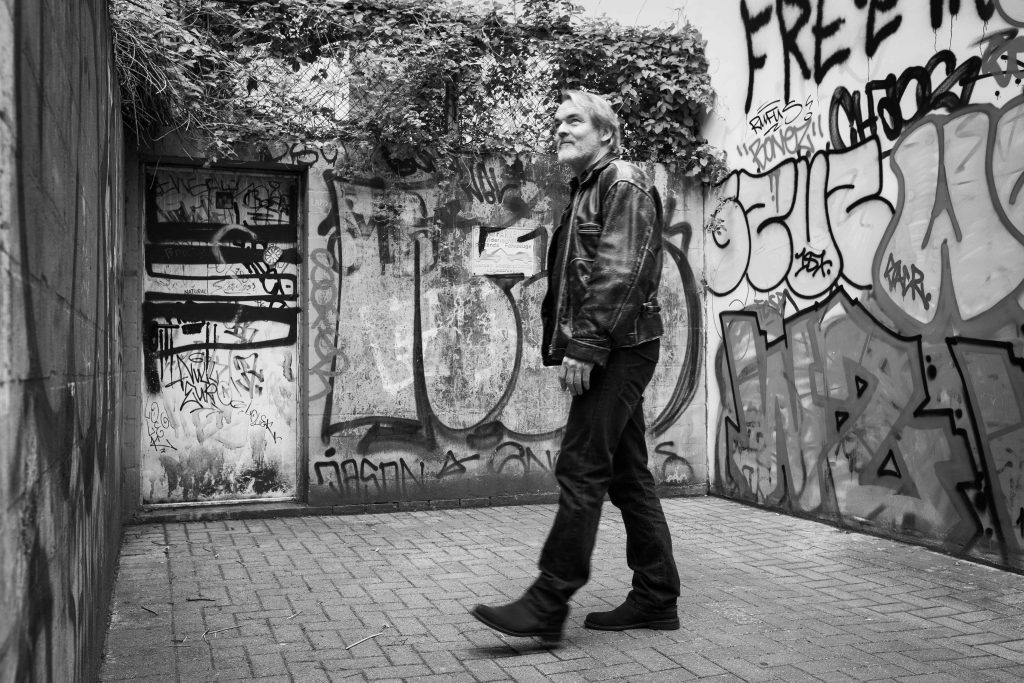 German Info+++ EDE – Mercy! Mercy! Wenn Trip Hop auf Captain Beefheart trifft. Neuer experimenteller Krautrock aus Hamburg/Berlin.
 "Als ich in den 80er Jahren anfing, Musik zu machen, war es mir peinlich, wenn jemand sagte: Dein Sound klingt wie diese oder jene Band. Heute ist es eine positive Qualität, wenn man wie die alten Künstler und ihre Styles klingt, das ist erstaunlich."  so EDE.
EDE´s Songs beschreiben persönliche Kämpfe (Mercy, Crazy, Sick), verlorene Liebe (The Day, Always) und enttäuschte Liebe (White And Golden). Sie drücken Befürchtungen zur globalen Entwicklung (Coconuts) und die Notwendigkeit einer Haltungsänderung aus (Look Around). Seine Texte transportieren dennoch die Hoffnung auf eine bessere Welt durch POP! EDE ist dabei keine einfache Retro, EDE zeigt vielmehr viele Crossover-Skills, wie sie seinem persönlichen Geschmack entspringen.
EDE – der hier eine Ausbildung zum Pfleger machte, lebte bereits in den 80ern in Berlin und trieb sich bevorzugt in der Madonna Bar (20 Meter von seiner Bude entfernt) herum. Er erlebte dabei einige verrückte und aufregende Stories im Kreuzberg jener Tage. Ab Mitte der 80er spielte EDE als Schlagzeuger in der Kalle Winkler Band ("Made in DDR"). Er schrieb erste eigene Songs mit Gitarre und einer frühen Fricke-Drumbox. Später als Sänger, hatte er in den 90er Jahren einige Live-Gigs mit Bands wie Private Talk und Jealuous Deer.
Für Gesangsstunden besuchte er Anfang der 90er Jahre die Musikschule in Berlin Kreuzberg und mit der Band Private Talk gewann er 1992 den Hard Rock Café Bandwettbewerb. Viele Texte und Kompositionen sind während dieser Jahre Berlin entstanden.
Seit 2004 in Hamburg lebend, produzierte EDE seine Songs ab 2010 mit neuer Technik und frischer Inspiration. Die Pandemie tat zuletzt ihr Übriges für die Fertigstellung dieses Albums. Was soll man auch tun, wenn man in seinen vier Wänden gefangen eine Seuche erlebt, wie man sie bis dahin nur aus Geschichtsbüchern kannte? EDE arbeitete sich also durch einen Berg unveröffentlichter Songs und Arrangements. Er griff zu seinen Instrumenten und mit erstaunlicher Stimme und viel Leidenschaft produzierte er die Songs im DIY nun endlich fertig!
"Er hat alle Songs über Jahre hinweg ständig weiterentwickelt. Wobei diese eh schon seit vielen Jahren Potenzial hatten. Daher umso besser, dass sie nun endlich veröffentlicht werden." sagt Daniel von CZ! Promotions.
Mercy! Mercy! ist EDE´s – zugegebenermaßen – ziemlich spätes Debütalbum. Die oft wavigen, etwas dunklen Songs klingen eigen – ein Sound, den man bis dahin noch nicht gehört hat – oder doch?
Mercy! Mercy! der überraschend experimentelle Kraut-Pop … Lets listen!Credits: all tracks recorded and produced by EDE.
Mastering by Christian Bethge (except tracks: 'I am You', 'Heat', 'Neighbours' and 'Day Of Illusion' mastered by Ede)
Artwork and design by Sahba Yadegar
Ede
facebook