Relase Date: April 21st, 2023
Label: MEtalmosa (CD/LP/Digital)
FORMOSA: Watch/Share the 'Horns Up' Video From German Hard Rock/Metal/Glam Outfit; Fourth Full-Length 'Bittersweet' to Drop April 21st via the Band's Own Label METALMOSA. Watch the New Video HERE. The Band is currently on Tour supporting KISSING DYNAMITE and DYNAZTY. Tourdates below.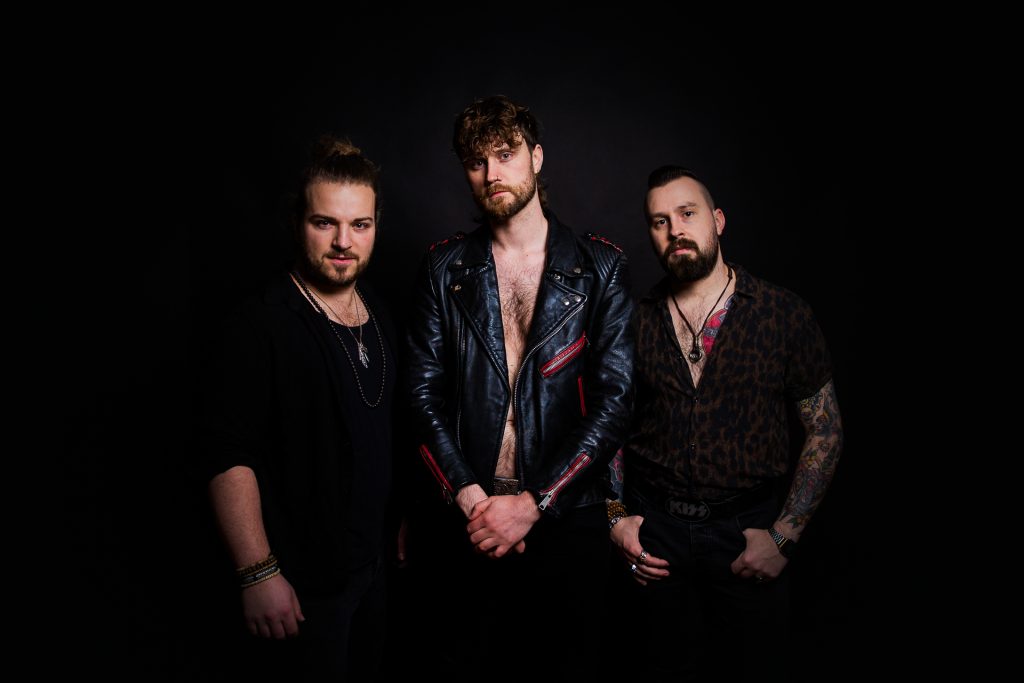 Comments the band: "For the video we went to the most epic and rad tattoo studio in our city. Lots of obscurities and crazy people. We shot the video just the way we like it. With not too many plans. But with lots of drinks. Basically a party with our friends."
The new album from Formosa is like a new beginning for the band. After the Corona pandemic the guys give full throttle and deliver ten strong tunes! With the songs and the sound of the record, the band reinvents it-self without losing itself. "It feels like a new start, a new era" says singer Nik Bird. Formosa's music has evolved, some of the songs have become heavier and faster, but overall each one is still melodic and catchy. The production as well as the songwriting are on a top level so that Formosa present their best album.
"We are very happy with the new album! We really have put our heart and soul in this record in the last months between all the tours " Nik Beer, guitarist. "We have managed to stay true to ourselves and yet not to tread water. We are very proud of the record and now we are curious what the rest of the world thinks"Paris Jay, drummer. Besides the new record, Formosa is currently showing what they can do live! The album is self-released by Formosa through their own label "Metalmosa".
KISSIN DYNAMITE & DYNAZTY SUPPORT TOUR
07.03. Budapest, HU – Barba Negra Music Club
08.03. Kraków, PL – Kamienna12
10.03. Wien, AT – Szene
11.03. Pratteln, CH – Z7
12.03. Strasbourg, FR – Laiterie
14.03. Paris, FR – Trabendo
15.03. Wasquehal, FR – The Black Lab
17.03. Hengelo, NL – Metropool
18.03. Osnabrück – Hyde Park
19.03. Vosselaar, BE – Biebobclub
BITTERSWEET-TOUR:
14.04. Waldbronn – Soundcheck One
15.04. München – Orange Club
21.04. Köln – MTC
22.04. Hanau – Brückenkopf
28.04. Gensingen – Nahetal Arena
29.04. tba
30.04. Berlin – Wild at Heart
05.05. Hamburg – Logo
06.05. Kassel – Goldgrube
02.09. Essen – Formosa Bierfest
preorder: digital and physical
+++GERMAN INFO: Das neue Album von Formosa ist wie ein Neubeginn für die Band. Nach der Coronapause geben die Jungs Vollgas und liefern zehn starke Nummern! Bei den Songs und dem Sound der Platte erfindet sich die Band neu ohne dabei sich selbst zu verlieren. "Es fühlt sich an wie ein Neustart, eine neue Ära" sagt Sänger Nik Bird. Die Musik von Formosa hat sich weiterent-wickelt, teilweise wurden die Songs härter und schneller, insgesamt ist dennoch jeder einzelne melodiös und eingängig. Die Produktion wie auch das Songwriting sind auf einem Höchstniveau so, dass Formosa ihr beste Scheibe präsentieren.
"Mit dem neuen Album sind wir sehr zufrieden, wir haben extrem viel Schweißblut die letz-ten Monate zwischen den ganzen Touren hineingesteckt und das Ergebnis kann sich sowas von sehen bzw. hören lassen" Nik Beer, Gitarrist. "Wir haben es geschafft uns treuzubleiben und trotzdem nicht auf der Stelle zu treten. Wir sind mächtig stolz auf die Scheibe und jetzt sind wir gespannt was der Rest der Welt denkt" Paris Jay, Drummer. Neben der neuen Platte zeigen Formosa aktuell auch Live was sie können! Das Album veröffentlichen Formosa selbst über ihr eigenes Label "Metalmosa".
Formosa
homepage
facebook
instagram
youtube
bandcamp

CZ! Promotions
instagram
facebook
hompage
mail