Relase Date: September 1st, 2023
Label: Wrong Speed Records (CD/LP/Digital)
HEY COLOSSUS: The Quietus Premieres 'My Name In Blood' Video From UK-Based Noise-Rock Band; 'In Blood' Full-Length To Drop September 1st Through WRONG SPEED RECORDS; Watch the Video for 'My Name In Blood' Exclusively at THE QUIETUS RIGHT HERE. Tourdates Posted!
In Blood is the group's 14th album and the follow-up to 2020's critically acclaimed Dances/Curses.
It was typical of a band so well-known for stellar live performances to release their most successful album at a time when they were unable to back it up on the road. As was the case for many, lockdown changed the band's lives in unexpected ways. Some felt a form of cabin fever at not being able to continue to make music (diverting their energies elsewhere – founding Wrong Speed Records for starters) whereas others relished the peace and quiet, perhaps questioning whether they wanted to return to the life they had before. Gigs (so long the lifeblood of the band) were booked, postponed, and cancelled. Things began to unravel and perhaps for the first time since the band formed in 2003 it was hard to see how it could continue.
A plan was hatched to attempt to re-energise and reassemble the band: they would begin work on a new album. They would approach this as though a Somerset version of The Desert Sessions – members old and new and guests would contribute as and when time and restrictions allowed.
The same writing and recording approaches were deployed as previous albums – explosions of group energy captured during intense studio sessions and then later whittled down into more manageable forms. This isn't unique by any means but the group's familiarity and trust in the process now produces something approaching traditional songs, albeit created spontaneously, without discussion and without committee and captured at the beautiful moment before understanding gives way to familiarity. The 'open door' policy of the sessions rapidly solidified into an entirely new Hey Colossus line-up, bringing with it fresh enthusiasm and enough initial material for a double album.
Lyrically, British folk and ghost mythology provided the starting position for the song themes ranging from mutated stories of grief and loss written in the 14th Century (Perle), spiritual reawakening by ancient apparitions (Avalon) to the growth of nature after devastation (Can't Feel Around Us, Over Cedar Limb), a metaphor also for spirit and body renewal and rebirth after trauma.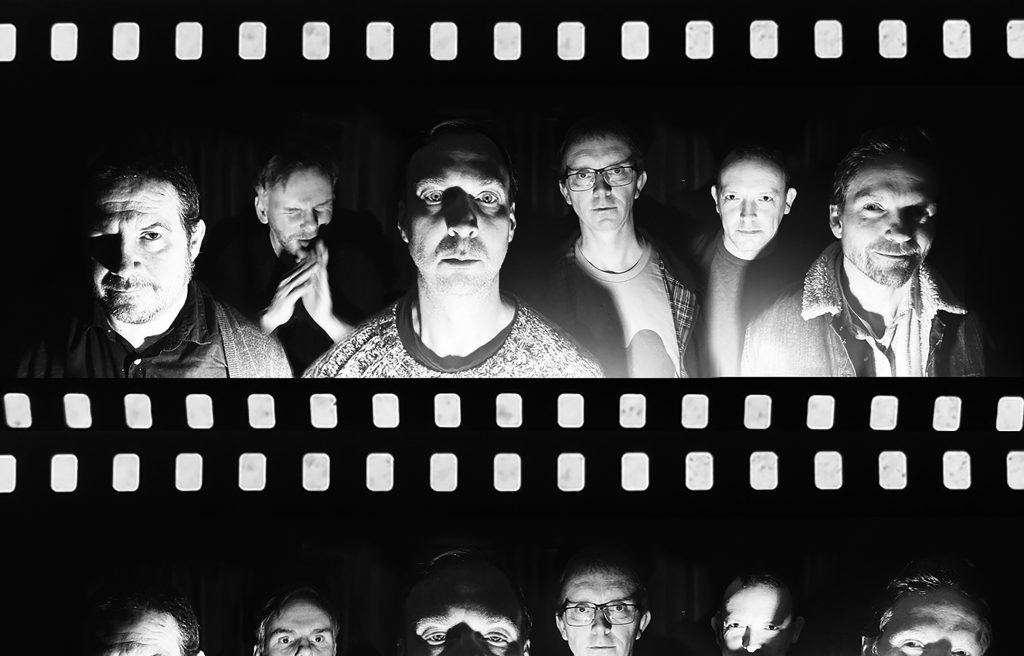 The results sound free of any genre shackles and it suits Hey Colossus. They have taken the expansive anything-goes approach that made Dances/Curses so successful and fine-tuned and shaped it into an 8-song single album that never treads water or fills time. The prominent vocals steer the listener through the music, defining it as opposed to punctuating it (or being buried by it). In Blood positions Hey Colossus somewhere new, outside of perceived contemporaries and in a more rarefied place altogether, alongside 'classic' bands like The Cure, Killing Joke, Sonic Youth, Dead Can Dance or even New Order (or The F-word of course – with Hey Colossus the only band anywhere near Prestwich's finest in terms of band member turnaround and reinvention). The band changes but in doing so remains the same. Hey Colossus only sound like Hey Colossus.
In Blood feels like a calling card for the band in their 20th anniversary year. As odd and challenging as long-term fans would expect or hope for, but somehow more accessible and to the point than ever before. It is the closest the group have ever come to a pop record and their most concise, emotionally powerful statement since 2016's masterpiece The Guillotine. Most crucially, In Blood feels positive, like a small ray of light in some very dark and very weird times. Music can never entirely negate these feelings but, like the natural world referenced in the lyrics and sleeve, it invisibly bonds people together, lifting us up if we choose to let it.
Tracklisting:
1. My Name In Blood
2. I Could Almost Care
3. Perle
4. Can't Feel Around Us
5. Curved In The Air
6. Avalon
7. TV Alone
8. Over Cedar Limb
Band:
Robert Davis – Guitar
Roo Farthing – Drums
Tim Farthing – Guitar
Chris Summerlin – Guitar
Paul Sykes – Vocals
Joe Thompson – Bass
Credits:
Recorded and mixed with Ben Turner at Axe and Trap
Mastered by Peter Fletcher at Black Bay
Artwork by Faith Coloccia
Live:
July 1 – Wrong Speed Festival, The King Arthur, GLASTONBURY
Sept 1 – Supersonic Festival, BIRMINGHAM
Sept 28 – La Source, BRUSSELS
Sept 29 – Le Sample, PARIS
Sept 30 – The Garage, LONDON (band-curated mini-festival)
Oct 19 – The Ferret, PRESTON
Oct 20 – The White Hotel, MANCHESTER
Oct 21 – The Lubber Fiend, NEWCASTLE
Nov 9 – Merleyn, NIJMEGEN
Nov 10 – La Zone, LIEGE
Nov 11 – Le Sonic, LYON

Hey Colossus
facebook
instagram
Wrong Speed Records
bandcamp
facebook
instagram